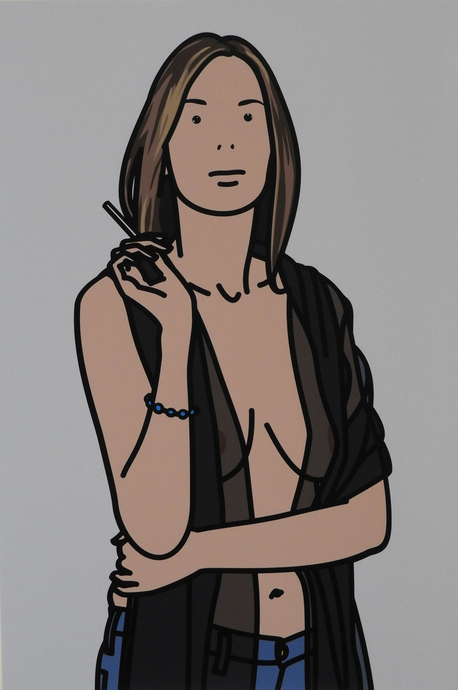 Julian Opie
Julian Opie zählt zu den wichtigsten Vertretern der Gegenwartskunst in der Nachfolge der Pop-Art.
geboren: 1958 in London
Studium an der Goldsmith's School of Art bei Michael Craig-Martin
Ausgestellte Werke im Museum of Modern Art in New York, im Dentsu Building in Tokio, in der National Gallery of Victoria in Melbourne, im Gana Art Centre in Seoul, in der Londoner National Portrait Gallery, in der Kunsthalle Bern, im Kunsthaus Zürich uvm.
In den 1980er Jahren etabliert sich Julian Opie rasch in der Kunstszene Londons. In der frühen Phase der Entwicklung arbeitet er an architektonischen Modellen sowie an einer Serie metallener, bemalter Skulpturen aus Stahlblech, die zum Ende der 1980er Jahre hin an Größe gewinnen. Mit seiner Teilnahme an der Kasseler Documenta-Ausstellung im Jahr 1984 werden diese Arbeiten weltweit bekannt.
Im Jahr 1997 beginnt er, an seiner berühmten Serie von Porträts zu arbeiten. Diese charakteristischen Werke festigen seinen internationalen Ruhm. Ausgangspunkt der Arbeiten ist eine Vereinfachung des Gesichtes am Computer: Die Binnenstrukturen werden dabei soweit reduziert, dass nur noch wenige Striche oder Punkte verbleiben. Diese aber vermögen es, Persönlichkeit und Eigenart des Porträtierten treffend umzusetzen. Durch diese Reduktion entsteht ein comicartiger Stil, und auch die flächige Farbigkeit, mit der Julian Opie seine Porträts unterlegt, trägt zur plakativen, an die Pop-Art gemahnenden Bildwirkung bei. Die britische Band "Blur" gibt bei Julian Opie das Albumcover für "Best of Blur" in diesem Stil in Auftrag – das Ergebnis ist preisgekrönt.